Home » Blog »
Buddhist Funeral Singapore
Buddhist Funeral rituals may vary between traditions or "schools" and even within schools, it depends on the country. Some Buddhist Funerals are very ritualistic and traditional, while many others are quite simple, solemn, and dignified. Peace and serenity are the pillars of a Buddhist funeral in Singapore. To understand, funeral rituals of the Buddhist people of Singapore, let us have a few words on Buddhism.
Buddhism is a religion founded by Siddharta Gautama, also known as "The Buddha" 2,500 years ago. Its influence has grown over many years, mostly in Asian countries. Buddhism in other word means enlightenment. Many Buddhists meditate to keep their mind at ease. Through meditation, Buddhist devotees are able to gain wisdom. A Buddha is not a god but is also known as a respectable man whom devotees look up to.
Cause & Effect In Buddhism
Buddhists believe in karma, the law of cause and effect. What goes around comes around. In short, do well unconditionally and the good things will come to you. There are no specific images of how a Buddha looks like. However, many pictures representing Buddhist beliefs have emerged over many years. The lotus flower and Bodhi tree symbolize well-being and good fortune. We often use lotus flowers to represent pureness in a Buddhist funeral ceremony.
Although Buddhists understand that death isn't an end, only a transition from one form to a different one, it's acceptable to express grief. In doing so, friends and relatives acknowledge the loss of their beloved members. The focus, however, should get on understanding the transiency of life, brooding about one's own mortality as an impetus to form life meaningful, and performing good deeds on behalf of the dead person.
Buddhist Funeral Rites/ Rituals/ Customs
It is common to see Buddhist funeral rites and ceremonies in Singapore. For instance, Buddhist funerals make up at least 60% of the religious belief in Singapore. Buddhism is the most universal religion here. We see more people switching from Taoist to Buddhist funerals due to the less complexity.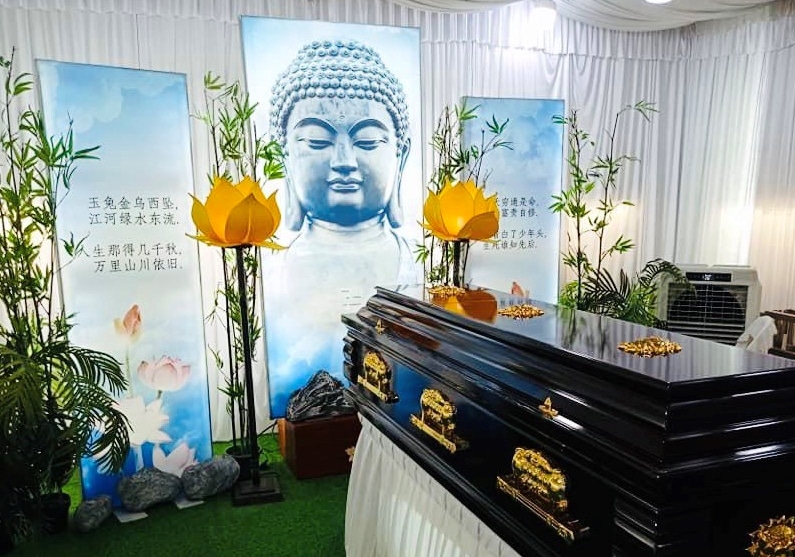 Upon the passing of a Buddhist devotee, family members often gather around to chant the Buddhist sutra. Many people believe that chanting the Diamond Sutra allows their loved ones to eradicate their past karma and gain enlightenment. Some staunch Buddhists will request not to touch the body of the deceased for up to eight hours. This is also known as the transition period. The period will mean that it is the most painful suffering, therefore it is not advisable to touch or remove the body from the place of demise. During the time of demise, we often play Buddhist chanting and music to soothe the deceased's passing. This process also symbolises the lighting of a path for the dearly departed.
Buddhist Funeral Customs
There are two types of Buddhism funeral customs in Singapore. They are mainly Mahayana Buddhist Funeral Customs and Theravada Buddhist Funeral Customs. The latter often consists of Buddhist monks from Thailand, Sri Lanka, and Burma. At a Buddhist funeral service wake, families are often seen praying to a Buddha statue. Buddhist chanting is essential in the funeral procession. A Buddhist funeral oversees the different stages of life & death. For instance, it makes up of the cause of suffering, the end of suffering, and the path that frees us from suffering. At a funeral wake, guests usually light one single joss stick to paying respect to the deceased at the altar. There is no restriction on how many josses stick to light. The usual custom is to light one single stick. After the guests pay respect at the altar, the family members usually bow as a token of appreciation.
The monk chanting is usually conducted during the first day, last night, and on a funeral day. Before cremation, the monk will have a short chanting session. Thereafter, the cortege moves off to the respective crematoriums or burial ground for the final resting place.
Buddhist Funeral Services
Ang Brothers Funeral Services offer an affordable Buddhist Funeral Package that includes the general needs of a Buddhist funeral. A half glass polished wood casket is part of our package. Basic items like embalming, transportation, tent set up at the void deck are also inclusive in our funeral package. In short, you have nothing to worry about. There are no hidden costs in our Buddhist funeral package. For instance, we have also included the Mandai cremation fees in our Buddhist Funeral Package.
Contact Us
In conclusion, we are available 24/7 to take your call. You can make enquiries with us at 9871 8388 with no obligations to engage us. We are happy to help and guide you to arrange a remarkable funeral for your beloved one.
Frequently Asked Questions (FAQ) –
 1. What does Buddhist do at a funeral?
Answer: Buddhist monks conduct chanting to help eradicate the past bad karma of the deceased. Families believe in doing good deeds to accumulate a good fortune for their loved ones in the afterworld.
2. Does Buddhist bury their dead bodies?
Answer: Buddhists can choose between cremation and burial in Singapore. Due to the scarcity of land in Singapore, most Buddhists prefer to be cremated. Cremation is more common in Singapore in comparison to Burial.
 3. What do you wear to a Buddhist funeral?
Answer: We usually advise to wear dull colour clothing to attend a funeral. Family members often wear white as a sign of respect when mourning their loved ones. We do not encourage anyone to dress in bright fanciful colours when attending a Buddhist funeral.
 4. How many days is a Buddhist funeral?
Answer: A Buddhist funeral is usually conducted between 3 to 5 days in Singapore. In the older days, we may see people holding a Buddhist funeral for up to 7 days.
 5. What are some Buddhist rituals?
Answer: Buddhist rituals include the family members receiving their loved ones back to the funeral wake premises. Buddhist monks will conduct chanting to help eradicate the past karma and accumulate a good fortune for the deceased.
 6. What do you say to a Buddhist when someone dies?
Answer: We usually comfort the family members with words like "He/She is in a better place now." Rest in peace.
 7. How does a Buddhist monk face death?
Answer: An interview with a Buddhist monk reveals that they face death with an open mind. Death can happen anytime. Hence, it is part of a life's transition that everyone will go through eventually. Never be afraid to face death. This is the cause and effect of the lotus sutra.
 8. Does Buddhism believe in God?
Answer: Buddhism itself is a religion. It is not a god or deity. It is a spiritual faith that consists of meditation and wisdom. For instance, God in general term is only a statue of worship. We can't see god.
 9. How much Buddhist Funeral Cost in Singapore?
Answer: An average Buddhist funeral cost $5,988 for a 3-Days funeral arrangement and $6,988for a 5-Days funeral arrangement respectively.
 10. How to arrange a Buddhist Funeral in Singapore?
Answer: You can rely on Ang Brothers Funeral Services for the arrangement of any Buddhist funerals in Singapore. They are swift, efficient and reliable.
 11. Why Ang Brothers Funeral Services is the best choice for Buddhist Funeral in Singapore?
Answer: Firstly, it is because their Buddhist funeral package items are listed clearly on their website with no hidden costs. What you see on the website is exactly what you will be paying on the funeral day.