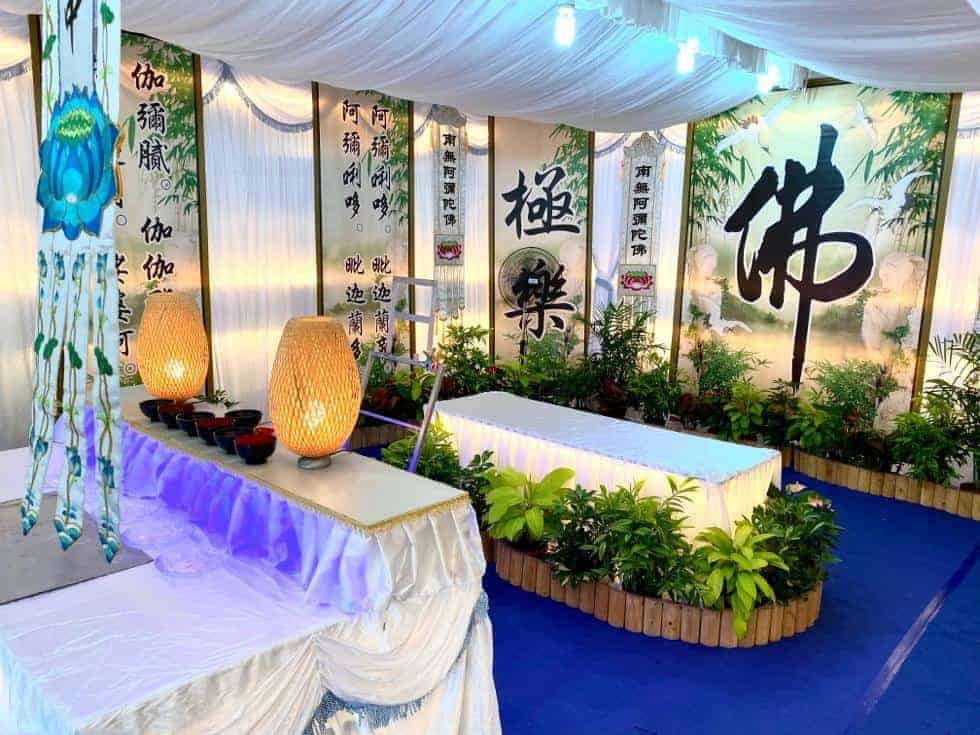 Buddhist funerals always holds this sturdy credence, birth, old age, and sickness. It all translates to preparation for the next life. The ceremony contributes to the peaceful departure of the deceased from one life to another. It is, therefore, important to hire an experienced Buddhist funeral director.
With years of experience arranging Buddhist funerals in Singapore, we are well-versed in organising a dignified tribute for bereaved families. Trusted by many, Buddhist funerals are made easy with us. At Ang Brothers Funeral Services, we ensure you pay an economical price but get premium settings. Many industry players will upsell their funeral packages or pushing for you to upgrade your funeral packages. With us, it is not necessary. We have everything in-house. That is why we are much affordable because we do not outsource our work.
Enquire with us now to find out more.
Buddhist Funeral And Customs
Unique to the Buddhist religion, samsara is a concept that serves as the fundamental in all Buddhist teachings. Samsara is a never-ending cycle of death and rebirth, and it will only end once one achieves enough good karma and eventual enlightenment to reach nirvana. Death marks the beginning of a samsara cycle, and the quality of life thereafter is predetermined by the quantity and quality of karma that has been accumulated within one's lifetime.
Following Buddhist beliefs, the funeral ritual starts with the bathing of the body, and later clothed to prepare for the funeral. The funeral itself is meant to be simple yet dignified, as an expression of bereavement.
During the funeral procession, Buddhist monks will chant sutras to lesson one's bad karma and aid the deceased in the transitioning into their next life. Such a display goes beyond mere traditions; it's a final meaningful act of love, an act to achieve peaceful closure for bereaved families and aid the dearly departed in their journey into the afterlife. It also serves as a good reminder of the transient nature of life.
How Much Is A Buddhist Funeral Package?
Ang Brothers Funeral Services offer affordable Buddhist funeral packages, ranging from $5,988 for 3 days and onwards. We have a team of professional and experienced Buddhist Funeral Directors. They are well-versed in the procedural details and funeral rites which will ease your mind. We are committed to ensure a proper organisation of the Buddhist Funeral Rites and Customs, so that the bereaved families can focus on healing and grieving. Our funeral director will be there with you every step of the way, guiding you through the entire process.
Why Choose Ang Brothers Funeral Services?
At Ang Brothers Funeral Services, we take pride in offering a professional and sincere service, one that you can personalise to better meet your funeral needs. Our funeral directors will be there with you every step of the way, guiding you through the entire process.
Over 40 Years of Funeral Experience and Accumulated Knowledge in Helping the Bereaved Families.
Our Funeral Packages Are Affordable, And It Include All the Essential General Needs of a Funeral.
Transparent Pricing Policy Ensures That You Only Pay What You Need. There Is No Hidden Cost.
Need Further Assistance About the Funeral Service Packages.
Call or Whatsapp us today at +65 9871 8388 to inquire about our Funeral Service Packages.
We will guide you through the entire process with compassion and empathy, all whilst making sure to arrange a funeral that befits your loved one.