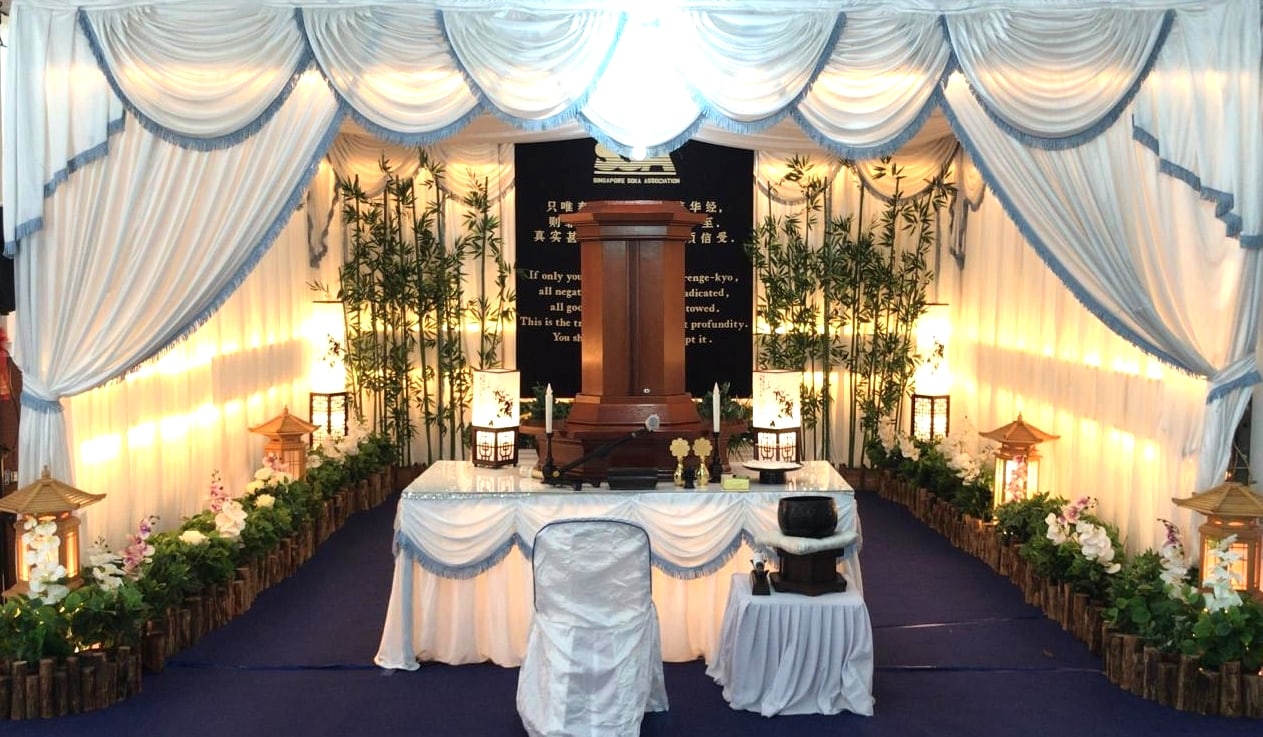 Soka Funeral Package Singapore
Funeral Services Singapore by Ang Brothers has affordable Soka Funeral Packages that include the essential general needs and requirement to hold a Soka Funeral Service in Singapore. Our Soka Funeral Packages start from $4,888 for a 3-day funeral, the Standard Soka Funeral Package ensure the setting looks Premium with Tablecloth and Seat Covers.
We are Transparent in our pricing and Do not have any hidden costs. Be rest assured that there's no extra charge and you only pay for what you use. Funeral Services Singapore by Ang Brothers has everything in-house and does not outsource our work
It is better to deal with Ang Brothers Funeral Services directly rather than to go through the authorised undertakers provider by the Soka Association. Engaging us directly will avoid additional cost.
To help you understand our affordable Soka Funeral Package, below is a complete breakdown of that we offer.
Standard Soka Funeral Package
Quality Casket for Soka Funeral Services
A well-polished casket with half-glass for viewing.
Body Collection and Embalming
Manpower & Transportation
Professional Embalming & Body Care (Cleaning, Dressing & Make up)
Preparation of Funeral Ceremony
Curtains & Carpet in Casket Area
Void Deck Enclosure
Soka Funeral Backdrop, Decoration and Altar Arrangement
Fifteen (15) square tables
Ten (10) round tables
One Hundred (100) plastic chairs
Tablecloths & Seat Covers
Air Coolers
Safe Box
Condolence Book
Photo Enlargement
1 Photo Enlargement (10" by 12")
6 Passport-sized photos
Floral Arrangement
A Floral Frame of 11″ by 13″ (1 piece)
Funeral Procession Service
Glass Hearse Transport on Funeral Day
50-Seater Air-conditioned bus (Round Trip)
Mandai Cremation Fee
Book Cremation Slot
Mandai Cremation Fee
Post Funeral Service
Add-ons
One (1) unit of mobile toilet available at $80 per day, and one (1) unit of chiller available at $50 per day, Portable Basin at $60 per funeral are non-inclusive in the funeral package.
Food Catering, Drink, Misc. Consumables such as Peanuts, Melon Seeds, etc are billed on consignment basis.
Sound System e. Speaker, Mic, Music Stand, Amplifier etc.
Note:
The prices quoted above are for funeral wakes and ceremonies held at HDB void decks. For Soka funeral wakes held at private housing or outdoor areas, the prices may differ slightly due to variations in the setup of the tentage. Alternatively, Customers may also choose to hold the funeral wake at a funeral parlour. For funeral parlour rental, it is subject to availability and the rental fee will be billed separately from the Soka funeral package price. Additional tent setup or extension within the Parlour compound, there is additional charge based on the variations of the size of the tent.  For customers who choose to hold the wake at a parlour, package price remains the same and any included items cannot be exchanged or refunded.
Payment Method
We accept cash, cheque & PayNow. Terms & conditions apply.
Why Choose Ang Brothers Funeral Services?
At Ang Brothers Funeral Services, we take pride in offering a professional and sincere service, one that you can personalise to better meet your funeral needs. Our funeral directors will be there with you every step of the way, guiding you through the entire process.
Over 40 Years of Funeral Experience and Accumulated Knowledge in Helping the Bereaved Families.
Our Funeral Packages Are Affordable, And It Include All the Essential General Needs of a Funeral.
Transparent Pricing Policy Ensures That You Only Pay What You Need. There Is No Hidden Cost.
Need Further Assistance About the Funeral Service Packages.
Call or WhatsApp us today at +65 9871 8388 to inquire about our Funeral Service Packages.
We will guide you through the entire process with compassion and empathy, all whilst making sure to arrange a  funeral that befits your loved one.