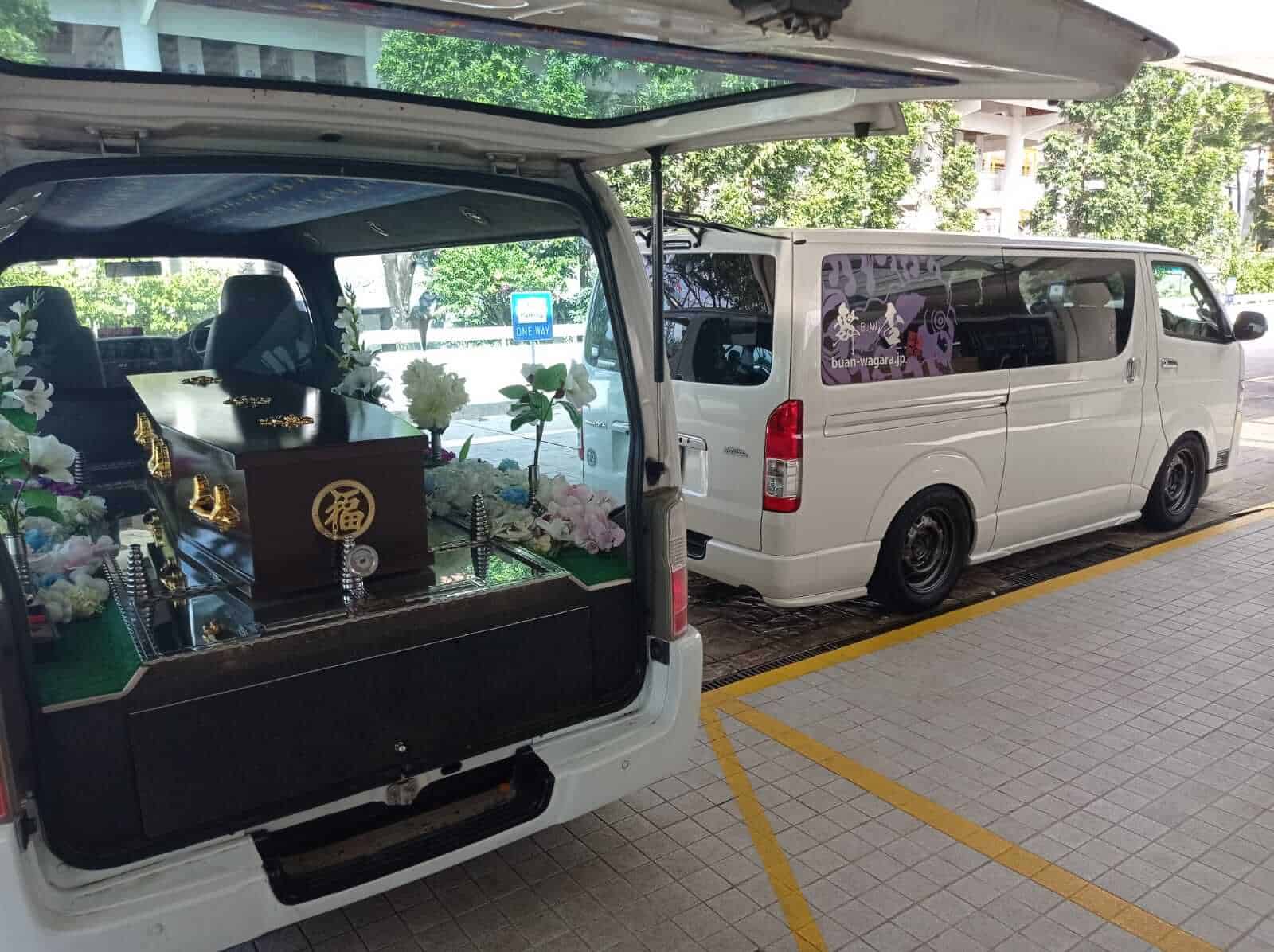 When it comes to Direct Funeral Services, Ang Brothers Funeral Services offer the lowest and the most affordable in Singapore. We are here to offer the Reliable, and Economic Direct Funeral Service to the poor, deprived families in Singapore.
Ang Brothers are always with the unfortunate bereaved family in Singapore. It is a great hardship for them to arrange a posh funeral wake.
Did you hear the Latin Phrase "Pro Bono Publico"? It means something done for the public good. In connection, the founder of Ang Brothers Funeral Services had provided countless Pro Bono Services to the poor in Singapore.
Now, what is the connection between Pro Bono Services and Direct Funeral Services? The answer is simple, both are for the below poverty level people and is done only for the public good only.
Direct Funeral Services is one of the various services that we provide. Ang Brothers offer Direct Funeral Service Package at only $1,280. Henceforth, our Direct Funeral Services price is the lowest and the most affordable in Singapore.
Sometimes, due to the fast and busy life, people may try to avoid lengthy rituals. For these reasons, Direct Funeral Services is becoming popular nowadays in Singapore.
1) What is Direct Funeral Service?
4) Why People Choose Direct Funeral Service?
5) Can You Attend A Direct Funeral?
6) How Much Is A Direct Funeral Package?
What is Direct Funeral Service?
A Direct Funeral is the uncomplicated and the most economic funeral option. The term direct funeral generally used to refer to both direct burial and direct cremation. However, in Singapore Direct Funeral Service will refer only to Direct Cremation Service. The reason is simple, due to the scarcity of burial spaces burial is very costly here. Thus, Direct Burial Service is not preferred by the people of Singapore.
Direct burial or cremation generally takes place without a funeral wake service beforehand, and usually without any mourners present. These types of funerals include only the essential materials of a cremation or burial enabling the funeral director to keep costs to a minimum.
Direct Funeral Services is an increasingly popular alternative to a traditional funeral. Because they are ideal for those looking for a low-cost funeral option or those that do not want a mess after the death of their loved ones. Hence, Direct Funeral Services saves both time and money.
Direct Cremation Service
A Direct Cremation is a regular cremation without a funeral wake service. The services provided as part of the Direct Cremation Package will vary from provider to provider, with some providers charging extra for cremation fees and doctor's fees.
At Ang Brothers, arranging a Direct Cremation Service is a simple and straightforward process. Our Direct Funeral Services are free of the traditional ritualistic elements some people feel are unnecessary, such as a pre-ceremony or procession with a hearse, limousines for the family, and pallbearers.
We take care of arranging the practical elements of the funeral, allowing you to remember your loved one's life in a way that suits your need, budget, and social strata. Thus, Ang Brothers' Direct Funeral Service is the simplest way to bid goodbye and offer the final homage to your deceased loved one.
Direct Burial Service
A Direct Burial Service is a burial without a funeral wake or ceremony. The Direct burial is the least preferable option of the two direct funeral options and it not readily available in Singapore. Unlike a direct cremation which can often be provided for a predetermined price, the cost of a direct burial can be influenced by several factors, such as location, material of the tombstone, labour cost for grave digging. The cost of the burial location is very high in Singapore due to the scarcity of the same.
In many Countries, committal will often take place at a burial ground. Hence, the authority chooses the resting place which will not always be local. Therefore, it means direct burial may not be a suitable choice for those families that want to visit their loved one's grave. If this is the case, a direct cremation may suit your needs better, as you can request the ashes are returned to you. You could then choose to bury or inter your loved one's ashes if you would like your loved one to have a final resting place that you are able to visit.
Why People Choose Direct Funeral Services?
Many people prefer direct funerals in Singapore as a low-cost alternative to a traditional funeral. So, when would you consider choosing the Direct Funeral Services?
Those who do not believe in the often costly, ceremonial events of a ritualistic funeral wake and would rather prefer that their family spend the money in a more fulfilling manner and hold only the simple funeral.
Those who do not prefer that their family can handle the stress and hardship that typically comes with arranging and attending a traditional funeral wake.
Those who passes away with little close family, or whose relatives live far away and are unable to be able to attend a funeral service at short notice.
Those below the poverty level who cannot afford a posh funeral wake at costly funeral parlours or even at HDB void deck.
Those who are very much busy with their stressful professional schedule and cannot arrange a lengthy ceremony for their loved one.
Direct Funeral Services may be a good option for accidental death victims, murder victims, or for the deceased with an unnatural death.
It's important to consider that a Direct Funeral Service does not stop you from holding a funeral wake ceremony or memorial service. Instead, it enables you more flexibility in how, where, and when you celebrate the life of your loved one.
Many people choose to hold a ceremony or celebration of life without the casket present, for example in a church, at a private place, at home, or at their loved one's favourite place. Opting for a direct cremation over a direct burial will allow you the option to do so with the ashes present. You may even include the scattering of ashes or interment of ashes as part of the ceremony.
Can You Attend a Direct Funeral?
A typical Direct Funeral Service does not allow the presence of mourners. However, At Ang Brothers, we recognize that people are looking for a problem-free funeral option that they can attend. That's why we offer Direct Funeral Services with the option to attend.
Therefore, our Direct Funeral Service allows a small group of friends and family. As a result, they spend a short time before the cremation of their loved ones. This time allows you to say a few words, Monk's chanting, play a song of your choice. Although there is no funeral wake, many people feel comforted by simply being present at the crematorium.
If you are looking for an affordable cremation like a traditional funeral the Direct Funeral may be a better option. A Direct Funeral allows a short ceremony in the Mandai Cremation Centre, arranged by the family, with a limit on attendees. Henceforth, with a short ceremony and low-cost Direct Funeral is ideal in all respect.
How Much Is A Direct Funeral Package?
At Ang Brothers, Direct Funeral Service Package starts from $1,280 and includes all the elements of a direct funeral service like Caskets, Labour, Transportation.
A direct cremation is normally more cost-effective. Usually, Cremation will be done on the same day.
When choosing a Direct Funeral, it is important to understand exactly what their package includes. The price may seem low initially but there may be hidden charges such as hearse, limousines, pallbearers.
Conclusion
Deciding how you want your loved ones to celebrate your life isn't easy. But it is a decision worth making. As if you want to make things a little easier on your family after you die. Moreover, you may have specific wishes for your funeral.
If you feel a direct funeral is right for you, it may be a good idea to pre-plan the funeral. Putting a funeral plan in place will ensure your wishes are honoured when the time comes. In addition, it also relieves your family from stressful funeral arrangements and the financial burden that comes with this.
Why Choose Ang Brothers Funeral Services?
At Ang Brothers Funeral Services, we take pride in offering a professional and sincere service, one that you can personalise to better meet your funeral needs. Our funeral directors will be there with you every step of the way, guiding you through the entire process.
Over 40 Years of Funeral Experience and Accumulated Knowledge in Helping the Bereaved Families.
Our Funeral Packages Are Affordable, And It Include All the Essential General Needs of a Funeral.
Transparent Pricing Policy Ensures That You Only Pay What You Need. There Is No Hidden Cost.
Need Further Assistance About the Funeral Service Packages.
Call or Whatsapp us today at +65 9871 8388 to inquire about our Funeral Service Packages.
We will guide you through the entire process with compassion and empathy, all whilst making sure to arrange a funeral that befits your loved one.