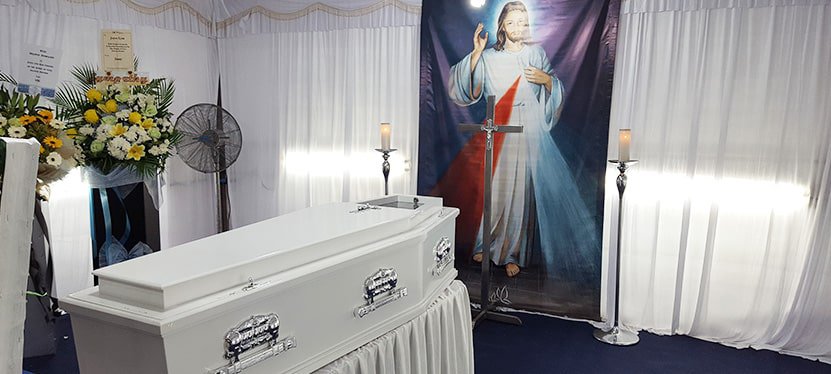 In accordance to the traditions in a Catholic Funeral service, Catholics hold a Prayer Vigil reception which is also a funeral wake. It is where families and friends can view the coffin of the deceased and gather together to pray. A benefit of having this process is that it provides the family with their first viewing of the coffin and enables them to have some quiet time with their special someone before the catholic funeral service. During this time, mourners gather in remembrance and pray with rosaries and offer prayers together as a big family.
Depending on the preferences of the family, our Catholic funeral services in Singapore can either be a funeral Mass which is also known as a Requiem Mass, or a funeral liturgy. In a funeral mass, there is prayer and holy communion. For the communion process, mourners will be at the church where they will receive the body of the deceased in the coffin, and then the communion process will begin.
If the family chooses the funeral liturgy instead, then there will be no inclusion of the holy communion.
Helping You with The Preparations
Funeral Services Singapore can assist the families of a departed one in making the necessary arrangements for the funeral procession of a Catholic Funeral Service. We can also arrange the Catholic funerals at HDB Void Decks, church parlours, and also within the comfort of your home. A meaningful and solemn Catholic funeral service is essential for family members and friends to come together in commemoration of the life of their dearly departed one. We ensure that this process goes smoothly so your deceased loved one can have a dignified farewell.
We provide an experienced Catholic priest in our funeral services that head the congregation. He will lead the prayer ceremony and other essential Catholic rites. During the vigil, mourners can also request to carry out tributes for the dearly departed.
Catholic Funeral Package Prices
Our three-day catholic funeral service package costs $4,888, while our five-day funeral service costs $5,888. With the minute difference between both packages, we recommend the five-day package so you can get value for your money. It is our promise to our Singapore customers that all of our services and products are affordable. We honour everything that we advertise and quote. We are highly familiar with the rites in a Catholic Funeral service. Therefore, your loved one receives the honour that they deserve.
Why Choose Ang Brothers Funeral Services?
At Ang Brothers Funeral Services, we take pride in offering a professional and sincere service, one that you can personalise to better meet your funeral needs. Our funeral directors will be there with you every step of the way, guiding you through the entire process.
Over 40 Years of Funeral Experience and Accumulated Knowledge in Helping the Bereaved Families.
Our Funeral Packages Are Affordable, And It Include All the Essential General Needs of a Funeral.
Transparent Pricing Policy Ensures That You Only Pay What You Need. There Is No Hidden Cost.
Need Further Assistance About the Funeral Service Packages.
Call or Whatsapp us today at +65 9871 8388 to inquire about our Funeral Service Packages.
We will guide you through the entire process with compassion and empathy, all whilst making sure to arrange a funeral that befits your loved one.