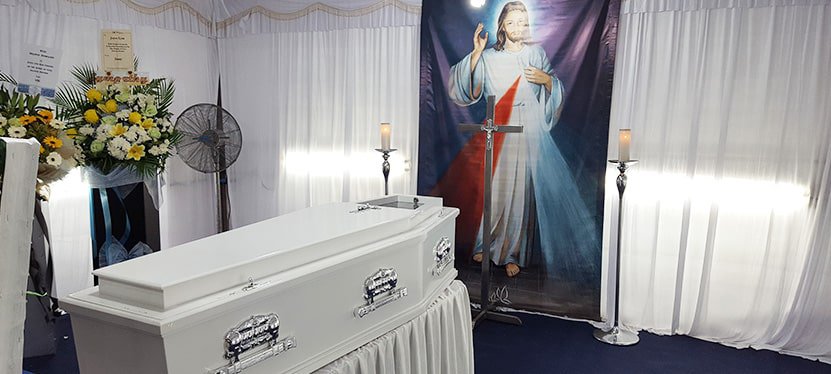 Catholic Funeral Services
According to catholic funeral traditions, Catholics hold a prayer which is similar to a viewing and wake. Singapore Bereavement Services can organize these occasions between the death and funeral. A Catholic Funeral Services is generally attended by the friends and family members. We can arrange these occasions at the HDB Void Decks, in church parlors, or even in the home of the families. We are the preferred Catholic Funeral Director in Singapore.
It is basically a place where mourners gather and pray in remembrance and you will definitely want it to be smooth. A priest leads the gathering, who is basically the person who is educated in prayers and catholic traditions. Family members can request to deliver the tributes at the vigil.
Catholic Funeral Services basically depends on whether it is a funeral mass or funeral liturgy. The funeral mass includes the prayer and holy communion. During this communion, the mourner proceeds to the church and receives the host. In other type of the service, that is funeral liturgy, there is no inclusion of holy communion.
Why Choose Us?
Like other religion services, Singapore Bereavement Services specializes in Catholic Funeral Services. Although the prices of these funeral services are fairly lower than the other services, the quality of service is the same as others. Most importantly, we use our exclusive Divine of Mercy Backdrop to serve our catholic families. Our transparent pricing makes us stand out from the rest. Singapore Bereavement Services is providing the funeral services with utmost integrity for the people of Singapore. We approach Catholic Funeral Service as an opportunity to strengthen ourselves and serve the Catholic Community through compassion, dedication and care.
Catholic Funeral Package Price
We have couple of affordable Catholic Funeral Package for you to choose from. You can select from the three (3) days and five (5) days service package. The 3 day service package costs 4,000 dollars while the 5 day package costs 4,700 dollars. There is a very minute difference in both packages in terms of price. That is why it is preferred to go with the 5 day package. We know the rites of the catholic funerals and we implement them to make sure that your loved one gets all the honor that he deserves. We promise our customers to offer our products and services in a very affordable price and that is why we honor what we advertise and quote. To know more about packages and its details you can click on the link here. This contains all the details and break down of our packages.
Contact Us for our Catholic Funeral Service ?
To find out more about our Catholic funeral packages, you can either call us at +65 6464 9809 or email us and our funeral consultants will provide you with all the information you need.