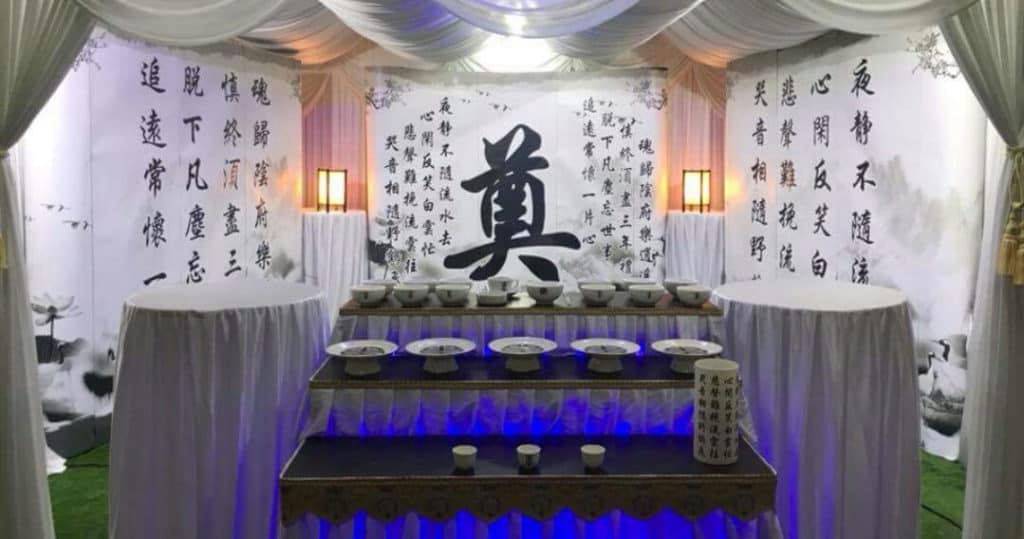 Taoist Funeral Package
We provide 2 variants for our Taoist funeral packages. The first one is $7,500 for 3-day funeral service, and the second one is $8,500 for 5-day funeral service. Depending on the ethnicity and backgrounds of our clients, different dialect groups may require different Taoist funeral services. We also have a wealth of experience accumulated over the years, hence, we are able to offer the most suitable and appropriate taoist funeral package to our Singapore Chinese Taoist clients. Our taoist funeral packages also include embalming, Funeral Day services, Funeral Wake setup, and Taoist Priest Chanting Ceremony.
| | | |
| --- | --- | --- |
| 3-Days | Taoist Funeral Package | $7,500 |
| 5-Days | Taoist Funeral Package | $8,500 |
In conclusion, a detailed breakdown of Taoist Funeral Package includes :-
Casket Services 
A premium wood casket with a half-glass viewing panel. (Available in 2 Colours)
Body Collection and Embalming
Transferring the body of the deceased to our care
Embalming and Makeup services on the body
Funeral Wake Setup at HDB Void Deck / Multi-Purpose Hall
Reservation and Booking of cremation slot
One (1) photo enlargement (10" by 12") and 6 Passport-sized photos
Floral frame (10" by 12") and 6 Passport-sized photos
Donation Collection Box and Record Book
Taoist Memorial Altar Arrangement
Taoist Blanket, Pearl and Pillow Set (1 Unit)
Table-Top fresh floral setup (2 Pieces)
Void Deck covered with curtain and carpet
Fifteen (15) Square Tables
Ten (10) Round Tables
One Hundred (100) Plastic Chairs
Fans and General Lighting
Paper Products
Funeral Lanterns appropriate for the respective dialects (1 pair)
Paper House depending on the respective dialects (8ft)
Gold and Silver mountains (1 set)
Guardian Angels (Golden Boy/Jade Girl) (1pair)
Taoist Priest Chanting Ceremony
Performe while transferring the body into the coffin (1 priest)
Performed during the Funeral Rites at wake up before departing to the crematorium (1 Priest)
Performed during the Rites of funeral wake while on the last night (3-5 priests) (7.00pm – 9.45pm)
Funeral Day Service
Appreciation Gift Pack (readily folded towels with coins)
Professional Pallbearer Services on Funeral Day
Ritual assistant and lantern bearers
Taoist Glass Hearse or a choice of Traditional/Mercedes Limousine Hearse (Extra Top-up)
Mobile Toilet
One (1) unit of Mobile Toilet is provided for the wake duration.
Post-Funeral Day Service
Ash collection services
Blessed water setup with crisp flowers
Customary advice after the funeral procession (7th, 49th, 100th day, 1st and 3rd year)
Payment Method
In addition, we accept various payment methods for Taoist funeral packages and services in Singapore and are generally accepted internationally and locally for the convenience of our clients for Taoist funeral packages. This includes payment ranging from cash, cheque, master, visa, to interest-free installment plan. Furthermore, we can also customize a grand setup at an additional fee.

Why Choose Us?
We are the premier professionals when it comes to organising and hosting Taoist funeral services in Singapore. We are one of the best that offers the lowest prices guaranteed. As a result, we have been serving the funeral needs of many Chinese Taoist families in Singapore for 30 years.
With our professional and friendly Funeral Consultants, we will assure that you receive the best taoist funeral services, products, and also advice. We believe that everyone, regardless of rich or poor, deserves an honourable funeral ceremony. Because of this, our affordable price for quality choice, we have become a familiar household brand for Taoist funeral services.
Need our help on the Taoist Funeral Package?
Finally, to know more about our Taoist Funeral Package in Singapore, simply call our 24/7 customer helpline on +65 8265 0301 or, fill the form below and a response will be sent shortly via email.