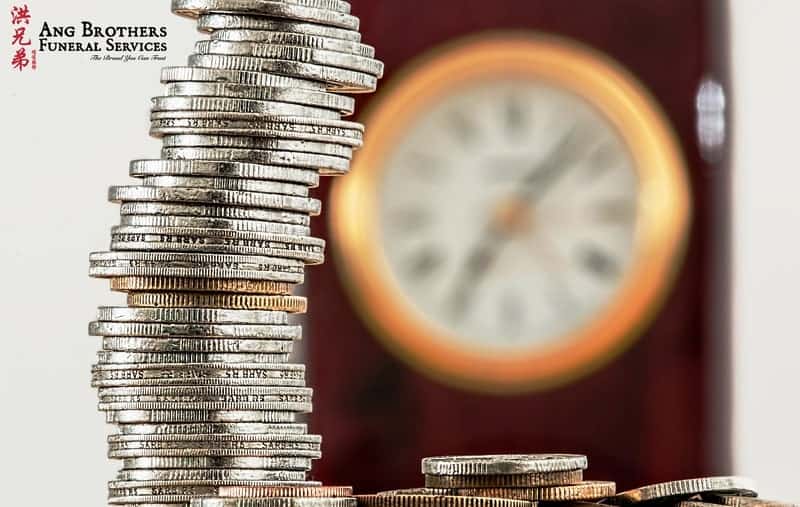 Death is taboo but still, it is omnipotent and we cannot deny death. Ultimately, when your loved one leaves you for eternal rest you become broken, brazen, and puzzled. But, it is your supreme duty to bid a respectful goodbye or to offer the ultimate homage to your loved one. This is the reason, you have to plan a funeral for the deceased loved one and have to understand the funeral costs in Singapore. That's why, Ang Brothers Funeral Services – the most trusted funeral director of Singapore prepare a comprehensive guide explaining the Funeral expenses in Singapore.
Factors Determining the Funeral Costs in Singapore
When you plan to arrange a funeral in Singapore the following factors determine the price of a funeral in Singapore.
Death occurred overseas/ in Singapore

CCOD & Death registry

Autopsy Charge

Obituary

Recruiting a funeral director

Embalming

Casket

Photo Enlargements

Hearse rental

Manpower involved

Visitors Invited

Food menu

Number of days of funeral

Mobile Toilet Facility

Traveling Expense

Funeral Flowers

Burial Vs. Cremation

Choice of Columbarium/ Ash Disposal

Location of Wake

Will Making

Grief Counselling Service
Now let us understand each and every point clearly and more precisely –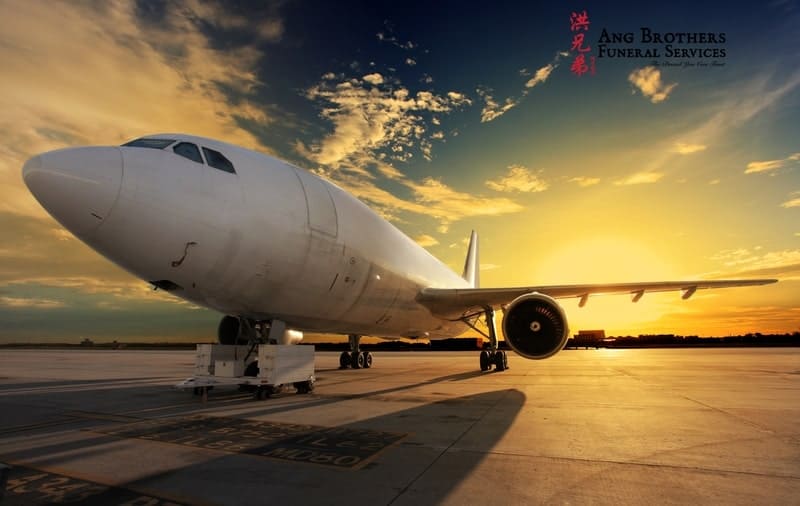 1. Death Occurred Overseas –
 If a tragic death occurs outside Singapore, then you may need to register the death with appropriate authority under the jurisdiction of the country. Then you have two options; either bring the body to the homeland for cremation/ burial or cremates the body and bring back the ashes only. If you want to bring back your departed loved one home, the Ministry of Foreign affairs can help you find a reliable funeral director and guide you for further procedure. Now, Ang Brothers Funeral Services is the most preferable repatriation service provider of the embassies. We provide a Repatriation Funeral Package at the most competitive and affordable rate in Singapore.
Bringing your loved one back to Singapore is not cheap. Moreover, you may need to follow all the guidelines issued by the International Airlines Trade Association (IATA). According to them, a body must be embalmed before repatriation. Thus, embalming the body, en-coffining, and flight fees play a major role in determining the costs of repatriation funeral. Finally, one needs to apply for a coffin import fee of amount around $20 at the Port/ Airport Health office. To sum up, Ang Brothers provide repatriation funeral package $2000 onwards.
CCOD and Death Registry –
If a Death occurred inside Singapore you need to obtain a Certificate of Cause of Death and have to register the death within 24 hours. Now, if the death occurred at the hospital the doctor on duty will issue CCOD free of costs. If the death occurred at home, you may take the help of the Local Police Centre or ring Ang Brothers at +65 9871 8388. Then, we will send a house call doctor to certify the death at $280 for office hours and $350 for non-office hours.
After getting CCOD, one has to register the death with the authority. Once you've registered the death, the centre will keep the CCOD, while you'll be issued a Death Certificate. You will need the death certificate to make arrangements for an obituary in the newspapers, the funeral, and the burial or cremation. However, you don't have to bear extra costs to register a death in Singapore. To add, The procedure can be done with the help of Ang Brothers Funeral Services in a hassle-free manner. Therefore, we have included these facilities in our funeral package costs. Thus, we may conclude that obtaining CCOD and registering death have little influence on funeral costs in Singapore.
Autopsy Charges –
What if the cause of the death is unnatural or the doctor fails to certify the exact cause of the death, the body is to be transferred to the mortuary. In that case, an autopsy is required to determine the cause of death. The cost of an autopsy report is around $160 – $170 in Singapore. For private autopsies, the corresponding fee is $5800 + GST. In addition for each day the body is kept in storage, you have to pay $165. Thus, the autopsy charge plays a major role in the determination of funeral costs in Singapore.
Obituary –
You have to decide if you want to announce the death in local newspapers. This is a relevant way of informing all your friends and relatives know about the details, venue, and timing of the wake and funeral. It costs from $1300 to place an obituary in the papers. However, placing an obituary is optional and it is absolutely depending upon you. Thus we may conclude that the costs of placing an obituary in the newspapers are optional and may not have a direct influence on funeral costs in Singapore.
Recruiting a Funeral Director –
The choice of funeral directors will have a direct impact on funeral costs in Singapore. As different funeral directors offer funeral services/ packages at different rates. In this, regard we may say that Ang Brothers funeral services offer their Funeral Packages at an economical, affordable rates. Hence, if you want a sophisticated funeral set-up in your budget just give us a call. Finally, our funeral packages are described in short in the later phase of this article. Therefore, recruiting an ideal funeral director is necessary to curtail the unnecessary funeral costs in Singapore.
Embalming –
Embalming is required to preserve the body and delay the decomposition rate. Ang Brothers have a sophisticated team of female embalmers and make-up artists. They take care of your loved one and prepare him/her for the final journey towards heaven. Embalming prices are included in our Funeral packages like other funeral directors. Thus, embalming will not create an extra burden in funeral costs rather it is embedded in the package price.
Casket –
The choice of casket may play a crucial role in funeral costs in Singapore. There are wide ranges of caskets available in the market for the last ride of your loved one. The major types of casket may be a metal casket, wooden casket, and paper casket. The metal casket is made of Bronze and copper and is the most expensive because they are of high quality and don't get rust easily. But, They can't be used for cremation purposes. A wooden casket made of Hardwoods like mahogany, cherry, walnut, and oak. However, casket made of pine, poplar, and veneer are cheaper and priced at about $700. Finally, we believe a premium wooden casket is the best choice for funeral.

Paper caskets are available for environmentally conscious people. They aren't necessarily cheaper (they start at $1,100) but they certainly don't break your bank account. It takes 25kg of recycled paper to make one paper casket but 74kg of wood to make a wooden one. However, Ang Brothers funeral's choice is a premium wooden casket with a half or full glass view. We are proud to declare that, casket facility is included in our funeral package cost.
Photo Enlargements –
Photo enlargements have no influence on funeral costs in Singapore. We may conclude, it is complementarily included in Ang Brothers' Funeral Package just like our competitors. To know more about photo enlargement facility please visit our packages page. However, it may cost around $50 – $100.
Hearse Rental –
A hearse is required to transport the body to the funeral wake location or from the hospital/mortuary in a grand manner. Rental a hearse is fairly easy and the facility is available with most of the funeral directors in Singapore. Ang Brothers' Funeral Services Mercedes Vito Hearse for their clients and cost of hearse rental is part of funeral packages. Therefore, we may say that hearse rental has some influence on determining the funeral costs in Singapore.
Manpower Involved –
The manpower involved in set-up or arrange a funeral in Singapore has a direct connection with the funeral expenses in Singapore. Therefore, if you arrange a grand ceremony with tons of visitors the funeral costs may increase. However, funeral costs may also increase if manpower is needed to set-up large paper houses, tents, lighting, fans, catering, tables, chairs, etc. But, you may rely on our service. Because We take care of everything with due diligence.
Visitors/ relatives Invited –
Funeral costs or expenses directly controlled by the visitor invited. The reason behind it is fairly simple and nursery mathematics. Because, with the increase of visitors or relatives the set-up needed will be much more like more tables, chairs, vehicles, food items.
Food Menu –
When you are arranging a funeral ceremony, choosing an ideal food menu is very important. Therefore, Expenses for food items, and catering facilities directly correlated with the funeral costs in Singapore. Food and catering cost starts at $2000 in Singapore and may increase with an increase in no. of visitors or no. of days of the funeral. To sum up, we may conclude that the costs of food or catering do not include in Ang Brother's Funeral package price.
No. of days of Funeral –
Funeral costs depend on no. of days the funeral ceremony is taking place. We have packages like 3 – days, 4 – days, and 5 – days for each of the religions. Hence, the higher the no. of days higher the cost. Each no. of days may add around $500 extra to the base cost.
Mobile Toilet Facility –
Mobile toilet facility is available at a price of $80 and the cost is non-inclusive in funeral package price in Singapore.
Traveling Expense –
Traveling expenses refer to costs incurred in the movement of relatives from your location to the funeral wake location. Now, Ang Brothers Funeral Services Singapore usually arrange 45/50 seater air-condition buses for their clients. However, traveling expenses considered as inclusive items in our Funeral Package. Therefore, traveling expense is an inevitable factor for funeral costs in Singapore.
Funeral Flowers –
Funeral flowers are necessary to show or offer respect to the deceased. Therefore, choosing the ideal funeral flowers or the condolence wreath is required. Guess What, Ang Brothers arrange your flower requirements at an affordable cost. Thus, we may conclude that funeral flowers/bouquets play a little but significant role in funeral expenses in Singapore.
    17. Burial Vs. Cremation –
 After the funeral ceremony ends, it's time when you have to decide the ultimate fate of the remains of your loved ones. That means you have to choose either of these options land burial, sea burial, or cremation. You probably realize Singapore is a place of 30-50KM extent, and the availability of burial places are very scarce resources here. The only cemetery available for land burial is 'Choa Chu Kang'.
The internment period is restricted to 15 years. From that point onward, the remaining parts must be incinerated or re-entombed. Along these lines, a great many people don't pick entombment except if it's for strict reasons. It would cost you about $350 for Muslim, Parsi, or Bahai internment. The cost goes up steeply to $950 for a Christian, Chinese or Hindu entombment.
Cremation is allowed in all religions and preferred by the people of Singapore. Mandai cremation can be taken place either at Government Crematorium or Private. The Three Crematoriums of Singapore are Mandai Crematorium (government), Kong Meng San Phor Kark See Monastery (private), and Tse Toh Aum Temple (private). Mandai cremation cost around $100 in the Government places and $350 – $500 at Private places. After the completion of the cremation, ash is to be collected and should be placed in an urn. An urn costs around $70 – $400. 
Choice of Columbarium/ Ash Disposal –
After the ash collection service is completed, the urn should be placed at the columbarium. There three Government Columbariums and sixty Private Columbariums in Singapore. Niche is to be selected to place the urn in a columbarium or engraved in a marble plaque. To conclude, niche costs around $500 for single or $900 for the full family for Government or $1200 (Single) to $5500 (Family) in Private. Finally, a marble plaque cost around $1000 – $1200. However, no one can stop you to place the urn at your home but generation should take care of it with due respect.
You can pick to disperse the remaining parts in the ocean. This can be possible 2.5km south of Pulau Semakau somewhere in the range between 7 am to 7 pm. The MPA's Port Marine Safety Control Center can assist you with this. However, Ang Brothers Funeral Services provide Sea burial services with an add-on of $800 – $1000. Thus, this procedure is well known as Sea Burial. In conclusion, Burial or Cremation – These options play a major role in identifying funeral costs in Singapore.
Location of Wake –
Probably, this is one of the most important factors of funeral costs. To explain, the location of the wake is the ultimate factor that determines the funeral expenses in Singapore. Depending upon your choice you may decide to hold a funeral wake at HDB void deck, your house, private apartment/ grounds, or at a funeral parlour. However, arranging a funeral at your house or at an HDB void deck is almost synonymous. The "Void Deck" word has Singaporean origin. It refers to the space of the ground floor/ area of an HDB block. Thus, the HDB void deck is the area where children play, people gather, meets with each other. Funerals can also be arranged in a void deck. However, you have to obtain prior permission from the Town Council for the Purpose. We may conclude that a funeral in an HDB void deck is the most affordable choice.
Now, to hold a funeral at a private ground/ apartment need prior approval from the Condo Management Authority. Otherwise, it is similar to Void Deck. However, it is a bit costlier than the previous one. Now, to use private landed property like the road outside your house you need to obtain permission from the Traffic Authority.
The most costly place of choice for a funeral wake is the funeral parlour. To know how to hold a funeral wake at a funeral parlour please read this article written by us. Though the funeral parlor is costly it provides a lot of facilities like a Guest Room, Wash Room, Coffee Vending machine, Free Wi-Fi, Fully air-conditioned, etc. In conclusion, we assume the choice of location of the wake is the major decisive factor to ascertain the funeral costs in Singapore.
     20. Will making –
Will making costs around $500 – $1100. However, charges of will make are not part of funeral costs in Singapore. Will making is a part of Funeral Pre-Planning. Will making is necessary for the following reasons, 1. Appoint a trustee to manage your assets, 2. Two executors to distribute your assets as per your will, 3. Hiring a legal heir for your children not attained age of 18 in case of your premature death etc. Therefore, you may visit our post regarding funeral pre-planning and design your customized funeral.   
    21. Grief Counselling –
Ang Brothers Funeral Services offers a comprehensive Grief Counselling Service. This is to cope with the sudden mental trauma when your loved one passes away. However, we may not correlate expenses incurred in grief counseling with the costs of the funeral ceremony. But, grief counseling is required to help you to overcome the mental trauma and return to the right track of life. To sum up, it is to enlighten you about the ultimate truth of life and death.
Reimbursement of Funeral Costs in Singapore
If the value of estate of the deceased person
How to cut Funeral Costs in Singapore?
The following are the areas where you can cut the funeral costs –
Funeral Flowers/ Condolence Wreath

Placing Obituary

Guests Invited

Funeral Parlour

Menu of Food & Beverages

Decoration, Paper Products

Switch from Taoists Funeral to Simple Buddhist

Grief Counselling

Choosing Ang Brothers' Affordable Funeral Packages
How to Recruit a Funeral Director at an Affordable Cost?
Just dial the number +65 9871 8388 to contact Ang Brothers Funeral Services and we will guide you right from the beginning to the end. For your consideration, we offer the most affordable Funeral Packages in Singapore.