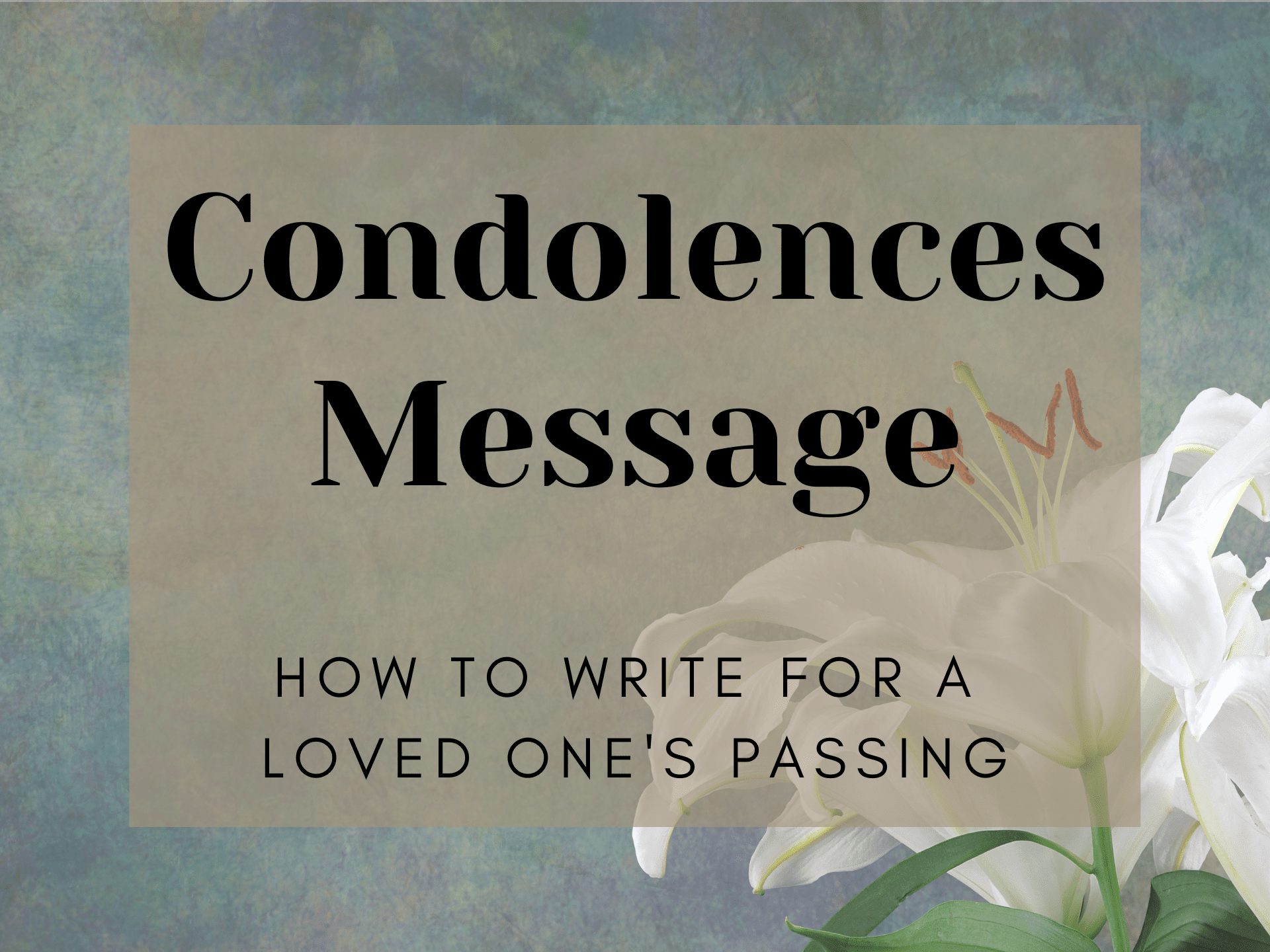 Writing condolences messages may be one of the most difficult things to do during a time of grief. This is especially true if the message is for someone close to you. From phrases like "It's terrible to hear about your loss," to messages like "May my condolences bring you comfort," it's very difficult to feel like what you've written has fully captured your feelings and sympathy. Additionally, some people may find it difficult to write heartfelt messages due to a language barrier, and others may find it difficult to express their emotions during difficult times. 
Condolence messages also tend to vary based on your relationship with the deceased or the bereaved. Messages to people who are considered close friends or family are often longer and more heartfelt, while condolence messages to colleagues and acquaintances tend to be short, simple, and sincere. This factor can also further complicate the process of writing a condolence message. 
In this article, we will provide you with some helpful tips for writing condolence messages for friends, family, colleagues, and acquaintances. We will also provide some example condolence messages for various situations, including: 
1) What is the purpose of Condolence Messages?
Condolence messages are a way of offering sympathy and comfort to people who have recently lost a loved one. It lets them know that you have them in your thoughts and that you care for them. It also acknowledges their grief. 
2) When should you send a condolence message? 
When you send your condolences depends on your relationship with the bereaved person. If it is a close friend or family member that recently lost a loved one, you should reach out to them to offer condolences and support immediately upon finding out. If the bereaved person is a colleague or an acquaintance, waiting a few days or waiting till the funeral has passed is acceptable. 
3) General tips for writing condolences message
When writing condolence messages, there are a few key things that you should remember to add in. 
First, you should begin by telling the recipient that you are sorry for their loss and you should offer your condolences. If you knew the deceased well, feel free to share a memory or two with the grieving person. If the recipient is religious, you can offer religious quotes for comfort. However, if you are unsure of their religious affiliations, avoid sharing religious quotes altogether. Next, you should offer help and support and remember to follow through if help is requested.
As much as you can, try to keep your message short and simple as it is very difficult to read long messages during times of grief. Additionally, you should try to send the condolence message in the form of a handwritten note or card. Text, email, or a phone call may seem to be the fastest and most efficient way to get the message to the bereaved person, but these modes of communication often feel impersonal. Finally, avoid using social media to offer condolences unless the person who has experienced a loss has already publicly shared about the passing of their loved one. 
4) Things NOT to include in your condolence message
Here are a few commonly included points in condolence messages that should be avoided completely. Here are some to avoid: 
a) Do not compare your feelings with theirs
All of us experience grief differently, so even if you have experienced the loss of someone before, statements like "I was so lost when my mother passed away" can come off as insensitive. 
b) Do not be overly upbeat or try to find a positive angle
Many of us may feel like the best way to help someone who is grieving is by cheering them up or by helping them see a silver lining. This is all done with good intentions but will come off as insensitive to the grieving person. Give them time and space to express grief. Avoid statements like "At least her suffering is over now." 
c) Don't say what you would do if your loved one passed away
Similar to the first point, everyone processes grief differently. It is impossible for you to know what the grieving person is currently feeling, let alone how they are coping with grief. Focus on offering them comfort rather than turning the conversation towards yourself. Avoid statements like "If my mother died, I would be so distraught and would probably disappear for a year."
d) Don't refer to the afterlife
This point really only applies to a grieving person whose religious affiliations you're not aware of. Non-religious people find no comfort at all in religious messages, so it is better to avoid these messages completely, regardless of your own religious beliefs. While you may think that the deceased is in a better place due to your own religious beliefs, this is not necessarily true for the bereaved person. 
5) General Condolences Message for Colleagues and Acquaintances
Here are a number of short condolence messages that you can work with if you're stuck. General condolence messages are short and concise, and are meant for acquaintances or colleagues that you are not particularly close to. 
Here are a number of simple condolence messages that you can use: 
My thoughts of comfort are with the grieving family. 

My deepest condolences and heartfelt thoughts go out to you in this time of sorrow.

I will be thinking of you in this moment of pain.

I am thinking about you and sending love.

I'm always there in your hour of need. May his/her soul rest in peace.

May you find peace and comfort during these difficult times.

May the passage of time heal your grief.

Our family is keeping your family in our thoughts and prayers.

Our hearts go out to you in your time of sorrow.

Please accept my deepest condolences for your family's loss.
Feel free to add on and personalise these short messages to make them your own. 
6) Condolence messages to Close Friends and Relatives
When sending condolence messages to people who you are close with, you should write something that's a little more personal. You might even throw in a couple of memories that you share with the grieving person of the deceased. For example, if a close friend's mother passed away, you can share a memory of having a home cooked meal with your friend's family at their home. Personal touches like these are often appreciated. 
If you are having difficulty starting your condolence message, here are some example messages you can start with: 
It is never easy to lose someone we care for. I wish that I could ease your pain, to help you heal. I hope that this message at least lets you know that I am thinking of you always. My heartfelt sympathies and deepest condolences go out to you in this difficult time.

I am terribly sorry that you are going through this. Losing someone special to you is never easy. I am here to support you, and to offer a shoulder to cry on if you need it. My sympathies go out to you and your family during this time.

I want to share my deep condolences with you as you deal with the loss of someone special. There are no words to express just how sorry I am that they have passed. As your friend, I hate to see you dealing with such sorrow, and would fix it all in a heartbeat if I could. I am thinking of you during this very hard time.

I am so sorry for your loss. Just know that I'm here for you. Whether you need me to pick something up for you or even just to talk, know that I have your back and support you 100%.

I was shocked when I heard the news. Ever since that moment, my thoughts have been with you. Please lean on me to help you get through this as best as possible. Let me know what I can do for you.
7) Condolence messages to a close friend or relative who has lost a parent
Perhaps the most devastating loss an individual can experience is the loss of a parent. Parents are often our role models, and losing them can be extremely difficult for most people. Condolence messages for the loss of a father or mother will require additional thought, especially if you are close to the person grieving. 
As these messages can be especially difficult to begin writing, here are some example messages you can start with before adding your own personalised words: 
a) Condolences Message for Loss of Mother
Your dear mother was so loved and was so good to everyone who knew her. She will be missed by so many.

May your mother's soul rest in peace.

Your mother was a gem, and will be greatly missed.

I'm truly sorry to hear about your mother. She was such a great person.

Your mother touched so many lives. May her spirit continue to live through you and your family.

May your mother's soul rest in peace and light forever. Wishing you peace and comfort.

Your mother was such a sweetheart, and was so full of so much love for others. May she rest in peace and be free from pain.

I'm so saddened to hear of your loss. Your mother was a wonderful woman. I wish peace and comfort to you and your family.

Your dear mother was such a beautiful soul. The world has lost a wonderful person. I know you will hold onto the memories and the lessons she has taught you.

Your mother was such a kind and loving individual. I will always remember how she treated me as if I was her own child during my times of struggle. 
b) Condolences Message for Loss of Father
My thoughts and prayers are with you as you deal with your loss and with the absence of your father.

Your dear father will be very missed. May he rest in peace.

My heart goes out to you. I'm terribly sorry for your loss. I know your Dad was a very special man.

We want you to know how deeply, truly, and dearly we will miss him.

He touched so many hearts, and opened so many minds.

We will never forget him, and are grateful to have had him in our lives.

Your dad was such a wonderful person, and I will always be grateful for the memories I have of him.

Your father has taught me how to be a good human being. He was a gentle, kind, and selfless man.

His loving warmth will be forever with us.

He will not be forgotten, and will be greatly missed. Rest in peace, my friend.
8) Quotes of Condolences Messages
If you're having a tough time putting your feelings to words, quotes of condolences are always a good option. They are eloquently phrased and speak volumes with very little words. Having them in your condolence messages can be a good addition too. 
Here are a number of popular quotes: 
"If the people we love are stolen from us, the way to have them live on is to never stop loving them." – James O'Barr

"Those we love and lose are always connected by heartstrings into infinity." – Terri Guillemets

"It is not length of life, but depth of life." – Ralph Waldo Emerson

"Our dead are never dead to us, until we have forgotten them." – George Eliot
What really matters
At the end of the day, regardless of how well written your condolences messages may be, it's not the most important thing to consider when dealing with a grieving person. The most important thing is to be there to support them in their time of struggle. If you offer help, be sincere and be ready to follow through with your offer. 
9) Funeral Services in Singapore for your Loved One
The passing of a loved one is a painful experience, and we will definitely want to have the best sendoff for them.
Besides writing the Best Condolences Message for the passing of a loved one, a trustworthy Funeral Services Singapore provider will make the best of the final sendoff for your him or her.
At Ang Brothers Funeral Services Singapore, they have a wealth of over 40 years of funeral services experience, providing this service for all major religions in Singapore, which include:
Buddhist Funeral Services
Taoist Funeral Services
Christian Funeral Services
Catholic Funeral Services
Soka Funeral Services
We are readily available to take your call at any time of the day at our 24 hour hotline +65 9871 8388. In addition, you can choose to drop us an email using the Contact Form on our site.
We hope this article has helped you on how to write the best Condolences Message for your Loved One.