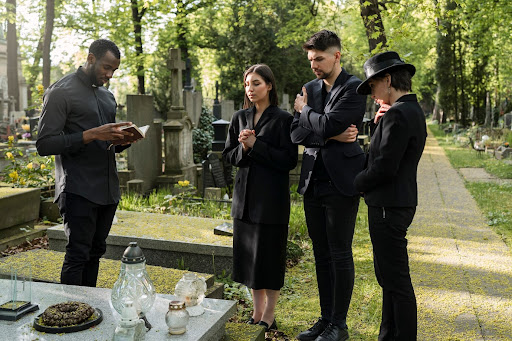 Losing a loved one is a deeply emotional and challenging experience. During such times, it's crucial to have the support and guidance of professionals who understand your beliefs and values. Choosing a Christian Funeral Service provider can be wise and comforting for Christians in Singapore. 
In This Blog, We Will Explore The Reasons Why Opting For A Christian Funeral Service Provider Is The Right Choice During Such A Difficult Period:
1. Respect for Christian Traditions and Beliefs:
When you engage a Christian funeral service provider, you can be confident that they understand and respect Christian traditions and beliefs. They are well-versed in Christian funerals' customs, rituals, and religious practices. This ensures that your loved one's final journey is in accordance with your faith, providing you with peace of mind during a challenging time.
2. Familiarity with Christian Funeral Ceremonies:
Christian funeral services often involve specific rituals, prayers, and hymns that hold deep significance for the grieving family. A Christian funeral service provider is familiar with these ceremonies and can help you organize a funeral that honors your loved one's life and faith. Whether it's a traditional church service, graveside ceremony, or memorial service, they can guide you through the process with sensitivity and understanding.
3. Experienced Pastoral Support:
During times of grief, many families find solace in the presence of a pastor or minister who can provide spiritual guidance and support. Christian Funeral Services providers often have connections with local churches and clergy, ensuring that you have access to experienced pastoral care when needed.
4. Compassionate and Empathetic Staff:
Christian funeral service providers are committed to providing compassionate and empathetic support to grieving families. They understand the emotional pain and turmoil you may be going through and strive to make the funeral planning process as smooth as possible. Their caring and sensitive approach can ease your burden during this difficult time.
5. Customized Christian Funeral Packages:
Christian funeral service providers offer various packages that can be tailored to meet your specific needs and budget. Whether you prefer a simple and intimate gathering or a more elaborate service, they can accommodate your wishes while upholding Christian values and traditions.
6. Professional Handling of Logistics:
Organizing a funeral involves numerous logistical details, from obtaining the necessary permits to arranging transportation and coordinating with cemeteries or crematoriums. Christian funeral service providers are experienced in handling these logistics efficiently, allowing you to focus on honoring your loved one's memory.
7. Support Beyond the Funeral:
Your relationship with a Christian funeral service provider doesn't end with the funeral service. They can provide grief support and resources to help you and your family cope with the loss in the following days, weeks, and months. Their ongoing support is a valuable resource as you navigate the grieving process.
8. Community Connection:
Christian funeral service providers are often deeply embedded within the Christian community in Singapore. They have strong connections with churches, congregations, and support networks, ensuring you receive professional and community-based assistance during your mourning.
Conclusion 
Choosing a Christian Funeral Service provider in Singapore offers numerous benefits for those grieving the loss of a loved one. Their understanding of Christian traditions, compassionate staff, and commitment to supporting you throughout the funeral process make them a wise and comforting choice during this challenging time. Your faith and values are honored, and you can find solace in knowing that your loved one's farewell is in the hands of those who share your beliefs and will provide the care and respect it deserves.